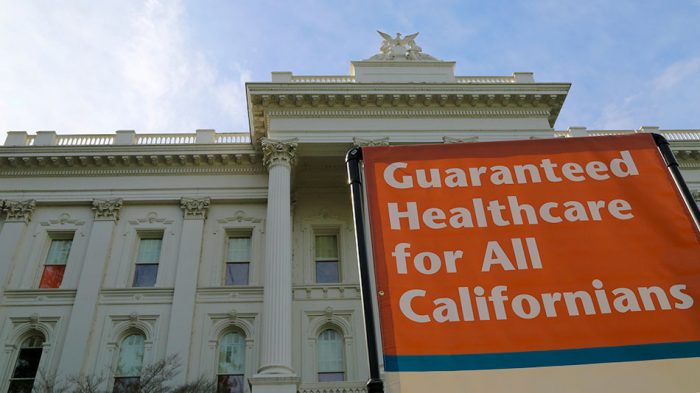 by Suzanne DeRusha and Lenny Potash
While Washington is threatening to change all healthcare as we know it, Senators Ricardo Lara and Toni Atkins have presented Californians with a different vision by introducing SB 562 in the Legislature with the promise of delivering guaranteed healthcare for all Californians through an improved Medicare for all model.
The bill known as The Healthy California Act intends to remove the health insurance industry from coming between you and your healthcare provider thereby creating a quality healthcare system that will immediately eliminate the billions of dollars of waste that is not spent on providing treatment and services. By pooling health care funds in a publicly-run fund we get the bargaining power of the seventh largest economy that will allow the state to save many billions of dollars more by negotiating uniform and transparent rates with doctors, hospitals and pharmaceutical companies for all necessary medical services and procedures. There'll be no more co-pays, high deductibles or surprise bills when your provider is "out of network". SB 562 guarantees every California resident a comprehensive healthcare plan and complete choice for you, not your insurance company, to pick your doctor or healthcare provider.
In an interview, Senator Lara (Long Beach) said that California needs to be prepared in case the Affordable Care Act is repealed, as Donald Trump and Congressional Republicans have promised. He also stated that with a single-payer system, we would be able to do something about the rising out-of-pocket costs and shrinking networks of doctors. "Quite frankly, [must] cut out the insurance company waste and duplication," Lara said.
The Healthy California Act has public oversight of costs, care and governance. In contrast to healthcare currently, decisions will not be made in secret. Funding for the plan will come primarily from premiums being paid by employers and workers linked to payroll, (like Medicare) but essentially replacing all other premiums and out of pocket costs. In the end, the overwhelming number of employers, workers, businesses and individuals will experience significant savings.
A 2017 Pew Research report found that 60 percent of all Americans say the government should be responsible for ensuring health care coverage for all Americans, compared with only 38 percent who say it should not be the government's responsibility.
The Healthy California Campaign that sponsored SB 562 is a statewide movement of labor and community organizations made up of nurses, teachers, patients, doctors, union members, business leaders, faith and immigrant rights organizations, and healthcare advocates and providers.
If SB 562 passes, EVERYONE living in California will be guaranteed the healthcare they need, not just the insurance coverage they can afford.
Get involved! Click here to connect with the Healthy California campaign.
Published March 7th, 2017
Like this post? Consider sharing it on

Facebook
or

Twitter
.