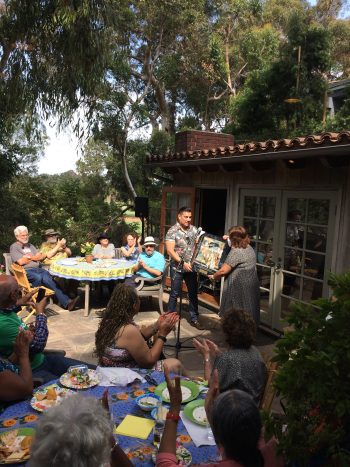 Over 100 single payer advocates, union activists, healthcare professionals, and religious and community oganizers gathered for Labor United for Universal Healthcare's annual Summer Garden Party on July 15 in Los Angeles to honor our 2017 healthcare justice honorees, Leslie Gersicoff and Sen. Ricardo Lara.
Each year, Labor United honors individuals who have demonstrated a commitment to healthcare justice. Leslie Gersicoff, Labor United for Universal Healthcare's Secretary, was one of this year's honorees. Leslie passed away suddenly in April of this year, and long-time friends Jerilyn Stapleton and Stephen Cohen were on hand to talk about her tireless activism in L.A.'s progressive community and beyond. Leslie could always be found on the front lines, standing up and speaking out for the vulnerable and the voiceless, fighting for good jobs, quality public services, dignity for the oppressed, and guaranteed healthcare for all.
The other honoree this year was Senator Ricardo Lara (D-Bell Gardens) who, along with Senator Toni Atkins, introduced SB 562 (The Healthy California Act) in February to provide comprehensive universal single payer healthcare coverage to all Californians. John Acosta, president of AFM Local 47 and one of last year's honorees, spoke about the healthcare crisis his members face and welcomed Sen. Lara, who talked about how growing up in East L.A. with no healthcare shaped his belief that healthcare should be available to everyone -- regardless of immigration status, employment status, or other barriers.
Thank you to everyone who donated or pledged to Labor United. We have a lot of work ahead of us to secure guaranteed healthcare for everyone in California! And, a very special thank you to our hosts and to all of the volunteers who worked so hard on making our Garden Party fundraiser a success.
If you didn't get a chance to attend or donate, but would like to, please click here. Finally, enjoy the photo gallery on our Facebook page.
Published July 24th, 2017
Like this post? Consider sharing it on

Facebook
or

Twitter
.