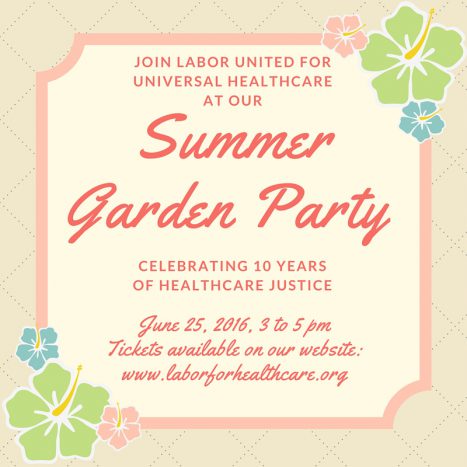 Join Labor United for Universal Healthcare at our 2016 Summer Garden Party: Celebrating 10 Years of Healthcare Justice on Saturday, June 25, 2016, from 3:00 to 5:00 pm at the home of Cynthia Anderson-Barker and Tim Barker in Westwood/Century City.
Actor and athlete Dwight Hicks will emcee our event: an idyllic afternoon of food and drink, music with guitarist Stan Ayeroff, comic relief from our own Gerry Daley, and honoring two individuals who have demonstrated their commitment to healthcare for all.
Our 2016 Honorees:
Alice Goff is President of AFSCME Local 3090, representing approximately 5,000 Los Angeles City clerical and support services workers. Under her leadership, Local 3090's members forged groundbreaking policies to help ensure women's equal treatment and dignity on the job. Ms. Goff is also President of AFSCME District Council 36, representing 22,000 workers in diverse, mostly public sector jobs throughout Southern California. She has been a labor activist and leader for over 25 years and has been widely recognized for her social justice advocacy.
John Acosta is President of AFM Local 47, representing over 7,000 professional musicians in Southern California. Mr. Acosta also serves as Vice President of the Los Angeles County Federation of Labor Executive Board. He hails from the Bronx, New York. His father, Juan Acosta, was a percussionist from Cuba who worked as a touring musician with Latin jazz greats such as Tito Puente and Celia Cruz. In California, Mr. Acosta's own career as a musician led to his work with Local 47, advocating for musicians' rights.
Tickets purchased before June 24 are $90 per person. Click the "Buy Now" button below to purchase.
Tickets will also be available at the door (call Sarah at 213.252.1351 for the address) for $100 per person. Cash and checks at the door only, please. Labor United for Universal Healthcare is a 501(c)4 social justice organization. Contributions/donations are not tax-deductible.
Published May 4th, 2016
Like this post? Consider sharing it on

Facebook
or

Twitter
.