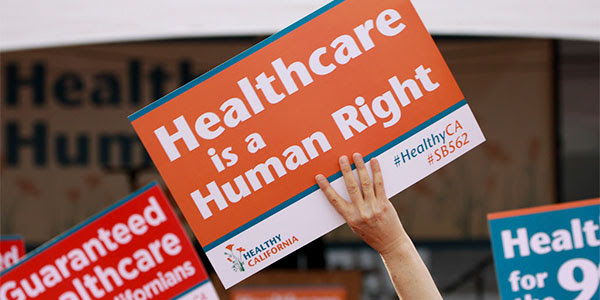 Labor United for Universal Healthcare is a co-sponsor of these town halls being organized by the Healthy California campaign. Join with other labor activists to get our voices heard around the need for guaranteed healthcare for all. Please plan to attend a town hall in your area on March 18 or 19. Also, mark your calendar for the march and rally on March 26 in downtown L.A. See you there! 
Our healthcare is under attack and as the current administration in DC moves forward to dismantle critical healthcare protections – California is ready to show another path is possible. The Healthy California Act, SB 562 (Lara & Atkins), allows us to go on offense by guaranteeing healthcare to all in California!
Join our Town Halls on the Future of Healthcare in California to learn more about our current healthcare crisis and our proposed solution: the Healthy California Act. You'll hear from nurses, doctors, as well as business, labor, youth and community – and we want to hear from you!
Check below for the Healthcare Town Hall near you – and join us to learn more and get involved in our statewide campaign to guarantee healthcare for ALL in the Golden State.
Saturday, March 18th
Fullerton Town Hall
10AM - Noon
Hilltop Banquet Center
1400 Elks View Lane, Fullerton, CA 92835
https://www.facebook.com/events/185214138639481
Pomona Town Hall
1PM - 3PM
New Life Community Church
275 E. Foothill Blvd, Pomona, CA 91767
https://www.facebook.com/events/269197146838849
Covina Town Hall
4PM - 6PM
Covina Women's Club
128 South San Jose Ave, Covina, CA 91723
https://www.facebook.com/events/736079313238920
Sunday, March 19th
Riverside Town Hall
2PM - 4PM
First Congregational Church
3504 Mission Inn, Riverside, CA 92501
https://www.facebook.com/events/803040129846094
Sunday, March 26th
Healthcare is a Human Right – March & Rally
11AM - Assemble at Pershing Square, 532 S. Olive St, Los Angeles, CA 90013
March, then Rally at City Hall until 2PM
https://www.facebook.com/events/217449502057724
Published March 13th, 2017
Like this post? Consider sharing it on

Facebook
or

Twitter
.