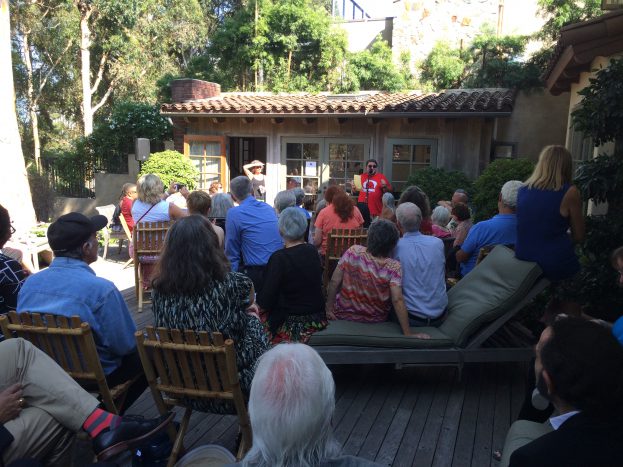 Nearly 100 single payer advocates, union activists, healthcare professionals, and religious and community organizers gathered for Labor United for Universal Healthcare's annual Summer Garden Party on June 25 in Los Angeles to enjoy an idyllic afternoon of food and drink emceed by athlete and actor Dwight Hicks, listen to music by guitarist Stan Ayeroff, and laugh with our own Gerry Daley's comic relief.
Reflecting on ten years of organizing for healthcare justice and looking forward to the work ahead of us, Labor United Co-Chair Leslie Simon said that single payer is no longer an issue that is being talked about as nice in theory but something that will never happen. It's been elevated to a national debate -- thanks to the Bernie Sanders campaign -- and we have an opportunity in front of us to continue to build the momentum and make Medicare for All a reality.
Each year, Labor United honors individuals who have demonstrated a commitment to healthcare justice. Alice Goff, President of AFSCME Local 3090 and President of AFSCME District Council 36, was one of this year's honorees. Accepting her award, Alice said, "We can bring about the change we need. The struggle continues." The other honoree this year was John Acosta, President of AFM Local 47 and Vice President of the Los Angeles County Federation of Labor, AFL-CIO, Executive Board. John talked about the healthcare crisis his members face. "Our union has 7,000 members in Los Angeles and less than half of them qualify for either of the two health plans we have."
Longtime Labor United Chair Lenny Potash received a special award from Labor Campaign for Single Payer for his outstanding contribution to the cause of healthcare for all. Labor United is part of a national movement within the labor movement, Lenny said as he accepted his award. The labor movement is crucial and we still have a lot of work to do within the labor movement. It's also critical that we work with allies in other single payer organizations, like Labor Campaign for Single Payer on the national level and Campaign for a Healthy California here in California.
Thank you to everyone who donated or pledged to Labor United. And, a very special thank you to our hosts and to all of the volunteers who worked so hard on making our Garden Party fundraiser a success – we couldn't do this without you!
If you didn't get a chance to attend or donate, but would like to, please click here. Finally, enjoy the photo gallery on our Facebook page.
Published June 27th, 2016
Like this post? Consider sharing it on

Facebook
or

Twitter
.